Our mission is to beautifully transform skin.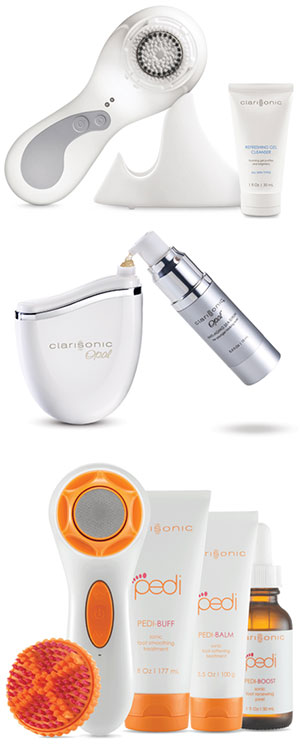 In this pursuit of transformation, we promise to deliver scientifically proven sonic technology synergistically combined with optimized skincare formulas for a beautifully engineered experience, immediate satisfaction, and long-term results.
Opal
Now there's a Sonic Method for accelerating the reduction of fine lines and wrinkles far beyond the capabilities of topical treatments alone. The Opal Infuser boosts absorption of our anti-aging sea serum by driving the powerful antioxidants and hydrating marine extracts, deeper into the skin for younger-looking eyes faster.
Pedi
Precision-engineered to create beautiful, smooth, sandal-ready feet.
Designed to smooth and soften dull, rough feet at home or between professional pedicures, the Pedi Sonic Foot Transformation System combines expertly engineered tools with sonically designed formulations to counteract the factors that cause dry, rough patches. Feet – especially heels and toes – become soft, supple and sandal-ready.
The Clarisonic Pedi Device is precision-engineered with an entirely new motor, running at a powerful "foot frequency" that safely exfoliates rough, dry foot skin. Our facial cleansing devices run at a gentler "face frequency," and aren't designed to drive the Pedi Smoothing Disc and Wet/Dry Buffing Brush Head.