Neocutis® Skin Care provides the benefits of high-protein anti-aging skincare. Neocutis® Skin Care products are exclusively formulated with PSP®, the newest generation of a balanced and optimal blend of proteins, for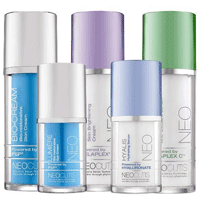 beautifully age-less skin. By following a consistent and regular program of Neocutis, younger skin can be yours in as little as six weeks.
Discovered through years of research in wound healing, PSP®, which stands for 'Processed Skin Cell Proteins', is a patented cosmetic ingredient developed by leading Swiss researchers and availableexclusively in Neocutis® Skin Care products.
PSP® is the newest generation of an optimal, naturally balanced blend of skin nourishing proteins and polypeptides. PSP® harnesses the power of human growth factors and cytokines, to help deliver state-of-the-art skin revitalization.
Featured in ELLE, Allure, New Beauty and more!
Ask us today about incorporating this exclusive Swiss skincare line into your regimen!