You'll get the best skin of your life in one week!
Treating many common skin concerns with this ONE Peel. No wonder its the most popular and called The Perfect Peel! This exclusive formulation provides superior results for aging skin, acne, melasma, hyper-pigmentation and many common skin concerns.
See your skin change:
Improve the clarity, tone & texture of the skin
Remove or reduce hyperpigmentation, including melasma
Control acne and improve the appearance of acne scars
Reduce the appearance of pore size
Soften fine lines and wrinkles

So let's get into the skinny of the actual procedure. Beauty Basics by Kristen shared her experience. And we have to agree. This is a shared experience with our patients.
"I wanted to give you the skinny on this awesome new service!  This is one of the best peels I've ever had!  It is a combo of a few different acids that make this a powerhouse of a peel.  This peel is considered mid-level, but I would rate it as slightly stronger.  This peel is safe for all skin types and is indicated for hyper-pigmentation, acne, acne scars, and for overall rejuvenation. So, here is my experience with the peel…
Before the first layer of the peel was applied, my face was washed and degreased.  The first layer of the peel is the only part of the treatment where I experienced discomfort. However, there is a numbing agent in this peel that makes it way more tolerable.  About 3-4 layers were applied.  My face felt tighter and tighter with each layer."
Once the peel is applied in the clinic, you will leave our office with the peel on the skin for 6 hours. You won't be leaving empty handed. You will get a pretty little kit to take home along with very detailed instructions about post-peel care. The first two days you won't moisturize. Drying is a big part of the process. And Kristen couldn't have said it better:
"They want this thing to dry you out like the Sahara!" 
You are given a retinol towelette to wipe your face with after cleansing for the first two nights. This step helps the peel to go a little deeper.
48 hours in, you will experience peeling, but as many patients say —
"Only in this context is this a great thing to see! Watching dead skin fall of your face for a refreshed, even skin tone is gratifying!"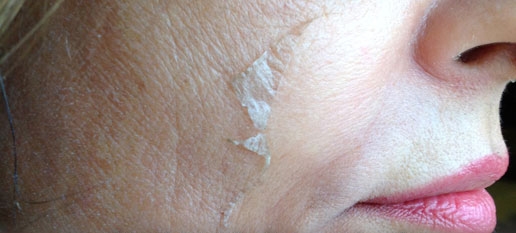 When the peeling starts: Apply the magical moisturizer that was given in your take home kit. Now is the time you can start to moisturize, many like to load it up. At this stage use as much moisturizer as you would like.
"It's super important during this process that you do not pick, peel, or rub the skin.  This will increase your chances of hyper-pigmentation.  I know you want to touch your new baby soft skin, but keep those germy fingers away from your face! Let that pretty little face heal." 
Glutathione protects the cells in our body from harmful toxins. It works by clearing the body of free radicals and toxins that can lead to skin problems like hyper-pigmentation and melasma, as well as more common concerns like sun or age spots. Through its ability to protect our cells from those same free radicals, skin whitening is a side effect.
What does the Perfect Derma Peel contain?
The Perfect Derma Peel blends glutathione, kojic acid, TCA (trichloroacetic acid), retinoic acid, salicylic acid, phenol, and a blend of minerals and vitamins, including vitamin C.
Cost per treatment: $300. Three treatments for $675.