Let's discuss what the HydraFacial is, who it works for, how it works & why you need it.
The Hydrafacial
is one of the most popular facials offering many benefits… And one benefit is how
clean
your skin actually is, looks and feels after your treatment. While there's all different skincare products and tools out there, many think
at home
products work just as well – they don't. Not at this level. HydraFacial patented machine offers the technology to go deeper, cleaning better than anything available on the market.
The HydraFacial
is ideal for all skin types. Get clearer, more hydrated, younger-looking skin immediately. The Hydrafacial targets hyper-pigmentation, oily/congested pores, fine lines, and wrinkles.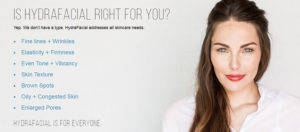 The purpose of any high-quality "facial" is to create healthier, better looking skin.
To achieve these goals of healthier, better looking skin a facial must contain certain basic steps in order to produce real results.
Step 1: Cleansing and exfoliation. The technician uses a small "deplaning" tool that opens up pores and sweeps the uppermost layer of makeup debris and dead skin cells away.
Step 2: Acid peel. Most glycolic peels leave your skin stinging for a few minutes until they're washed off, but not this facial. The glycolic/salicylic acid peel is gentle enough that it only creates the faintest tingle.
Step 3: Extractions. If you're the type of person who enjoys seeing what comes out of your clogged pores, this may be part of the treatment you'll love. Instead of performing manual extractions, we use what's called a vortex-extraction nozzle that acts as a vacuum. The noise for many is satisfying, but the best (or the worst?) part is what shows at the base of the machine, showing exactly what was extracted—and it's more than you think.
The HydraFacial treatment doesn't stop at the basic three steps; it includes the additional step and benefit of infusing antioxidants into the skin, which not only hydrates the skin but decreases inflammation, reverses sun damage, and protects the skin's collagen fibers and enzyme systems.
Moreover, the treatment has been shown through clinical studies to replace damaged tissue and produce new collagen fibers.
Step 4: Serum application. This step uses the vortex-fusion tool, which infuses an antioxidant-and-collagen-rich serum into the skin to promote elasticity and hydration.
When the treatment is finished, your skin will be ultra-clean, glowing and smooth. Many people find they love the look of their natural skin so much they won't feel the need to reapply their makeup. To keep the look, it's recommended to come in for a scheduled HydraFacial once per month.
How it feels: We all know the no-pain-no-gain school of facials; in other words, treatments that are heavy on exfoliation and extractions like the Hydrafacial can leave patients wondering the pain level and downtime. No pain and no downtime. The HydraFacial prides itself on being just as aggressive—without the aggression.

Hear what patients/bloggers are saying:
"My skin was clean and glowing and I didn't put on any makeup for the walk home. Another editor who tried it in the morning loved the way her skin looked so much that she didn't put on any makeup for the entire workday, which she never does. It's been five days since my treatment and I'm noticing the benefits now when I put on my makeup: My skin looks brighter and feels softer, and I'm using less concealer on my dark spots. Bottom line: It's the best no-side-effects-whatsoever treatment I've tried."
Call (952) 426-3028 to book your HydraFacial for our St. Louis Park or Woodbury location.
We are currently booked out about 2-3 weeks so don't wait to book!